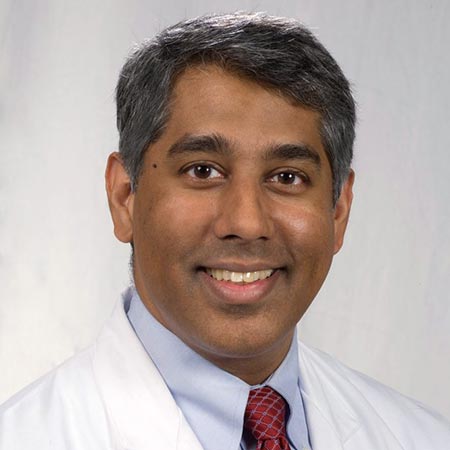 Missouri Baptist Medical Center
Remote magnetic navigation allows me to do what's most important and focus on the EP aspects of the procedure.
For some providers today, it's business. For Dr. Karthik Ramaswamy, medicine is still a personal thing. After helping to pioneer robotic cardiac ablation at Northeast Georgia Medical Center in 2005, Dr. Ramaswamy, the self-proclaimed "number one fan of Stereotaxis," brought his passion for the technology to Missouri Baptist Medical Center in St. Louis. "Over the years, many of my patients have been helped who otherwise would not have been cured by conventional means. I am fortunate to have this tool," he says.
Dr. Ramaswamy says his favorite aspect of the Stereotaxis system is that it permits a "cockpit" environment from which he can focus on the high-level aspects of the ablation. "I am able to oversee my team while directly performing critical aspects of the procedure, such as entrainment pacing, annotation and manipulation of the 3D mapping system, and monitoring of ablation effect. Robotic magnetic navigation allows me to do what's most important and focus on the EP aspects of the procedure."